Bird Watching in Ladakh
Birding in Ladakh
Ladakh besides being a place of magnificent peaks, high mountain lakes, peculiar cultural society, diverse wild animals presence , it's also a place for some very distinct migratory birds. Those wild bird lovers, photographers, nature lovers will find this place an worth enough to satiate their love for nature and watching the wild birds flying in the crystal clear blue sky. For bird watchers its extremely a wonderful place as the visibility in the is so large that one can see a bird fly from this mountain peak to another. As ladakh constitute of number of region, each geographic region possess different species of bird.
The following birds can be seen in the high altitude wetlands around lakes like Tsokar, tsomoriri and pangong:-
1. Great Crested Grebe:-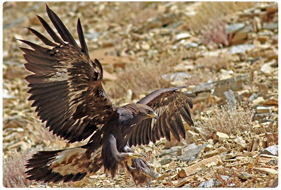 This is a tailless aquatic bird with straight pointed bill which is slightly pinkish in colour. This is one of the biggest grebe and the male and female are of almost equal size and it can be seen diving and swimming in open lakes. Its very interesting to see the nest floating with the parents and the parents show very good display of courtship which is worth seeing. Seen easily in high altitude lake like tsokar and tsomoriri lake
2. Red Crested Pochard:- Locally called as Marzangmo and its head is golden in colour. This bill is pinkish in color. It can be commonly sighted in Shey and Eastern part of Ladakh.
3. Black Necked Crane:- Locally called as Cha Thungthungkarmo, an endangered bird quite tall and both male and female are almost similar. The upper portion of the body i.e the head is black till the start of thorax and rest of the body plumage is whitish in color. Its amazing fact that Ladakh is the breeding ground for this lovely bird.Its distributed in the eastern part of ladakhparticularyarong the wetlands.
4. Bar Headed Goose:- Locally called as Nangpa. They are either grey, white and brown in color. They possess bar on their head.They also reside in the high altitude wetlands. Besides all these ladakh possess numerous varieties of water bird which will mesmerize the visitor. For example BrahminyDuck (Muru), Garganey, Northern Shoveler, etc
The following bird other then the wetland birds can be seen:-
1. Golden Eagle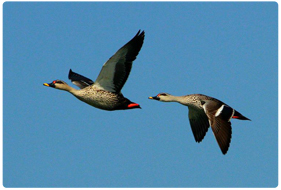 Locally know as Laknak or Gyablak and it is about 88cm in length. It primarily resides in rugged rocky mountain and the nest which it build is mostly inaccessible human being.It is very large eagle with long and broad wings. Its lovely to watch the flight and if you are enough fortunate you may zee this great eagle preying upon some small terrestrial animals like marmot, lamb, etc. It is distributed in Zanskar, Nubra and Eastern Ladakh
2. Lammergeier Locally known as Khilakand mostly found near outskirts of village and can be sighted in Zanskar, Leh and Eastern Ladakh. It can be sighted flying around when a wild animal dies.
3. Himalayn Griffon- Its also found in the region where pack animal are in good numbers. It is also pretty big bird and it build its nest in rugged mountain.
4. Common Hoopoe The main body color is orange in color but the wings and tail are black white in combination. It can be sighted anywhere in Ladakh
5. Great Rosefinch Locally called as lama chipa, and is pale, rose pink head.It is mostly sighted in in sparsely vegetation. It built its nest in the caragana shrub. It is a winter bird and can be found in rock crevices. It is found in Zanskar, Eastern ladakh and in Rumbak region
6. Common Redstart Locally known as SentigNagpo, its upper body is black in color and the chest portion is brown in colour. In winter it can be found in cultivation garden and on the roof top. In addition to all this mentioned bird you may be accompanied in this region by Larks, Magpie, Pink colored crow, swift, etc. This place is a hot spot for birds diversity.
Birding Tours in Ladakh
in this tour, the main emphasis is on birding, so that you can spend as much time for your much-loved activity as possible. while observing the bird population, you may have the chance to spot other wild animals of ladakh, too!
Day 1: arrival in leh, acclimatization day on 3,500 m altitude. pick-up by our staff at leh airport, transfer to hotel. afternoon sightseeing of shanti stupa, tsemo gonpa with car, explore leh bazaar by foot. evening at your leisure. Overnight in leh hotel.
Day 2: visit some birding spots around leh, like shey, thiksey, chuchot and spituk marshes. night at hotel.
Day 3: drive to tsokar lake (170 km, 5-6 hrs). evening nature walk around lake to spot some birds. overnight deluxe camp/hotel.
Day 4: around tsokar lake. we spend the day around this salted water lake, surrounded by barren mountains. good chances to spot many mamals and birds of ladakh. overnight at camp/hotel.
Day 5: drive 3 - 4 hours to tsomoriri lake on an altitude of 4,520 m via polokongka-la (4,920 m) and namshang-la (4,800 m). during the entire drive we have good chances to spot birds and other wild animals. o/n in camp/hotel.
Day 6: drive from tsomoriri lake to hanle via mahe (approx. 160 km, 4-5 hrs). also on this drive, we have opportunity to see many birds or mammals. overnight in local home stays.
Day 7: drive from hanle to leh (250 km, 6-7 hrs). very nice drive along indus river, spotting of birds possible. overnight in leh hotel.
Day 8: departure from leh with sweet memories from ladakh. end of the tour.for more birding tours, servic
Birding Tours in Indian Himalayan
naturalists, bird watchers, and wild animal spotters will be
Day-to-Day itinerary
Day 1: arrival in leh, acclimatization day on 3,500 m altitude. overnight in leh hotel.
Day 2: drive from leh to lamayuru (120 km). en route stop at magnetic hill, sangam and pathar sahib. after about 2 hours drive, we will reach lamayuru, visit the monastery, and the moon land area. drive back until alchi. overnight in alchi.
Day 3: drive from alchi to chilling, river rafting, drive back to leh. overnight at hotel in leh.
Day 4: drive from leh to nubra valley via the world's highest motorable pass khardong-la (5,600 m / 18,380 feet). O/N in fixed deluxe camp / hotel.
Day 5: in the morning visit the samstanling gompa, panamic hot springs, volcanic crater lake of tirisha. around mid day drive back to leh. overnight in leh hotel.
Day 6: drive to pangong lake (150 km). en route, visit stakna monastery. overnight in hotel/fixed camp.
Day 7: after breakfast, time to spot birds and take photos. late morning drive back to leh. en route, visit ticksay monastery and shey palace. overnight in hotel in leh.
Day 8: drive to tsokar lake (150 km ) where we will arrive in the afternoon. time to spot birds and wild animals. overnight at camp/hotel.
Day 9: in the late morning, drive from tsokar towards tsomoriri lake (80 km) via puga valley. possibility to see hot springs and geysers. after arriving in korzok, visit of the gompa. overnight in camp/hotel.
Day 10: in the morning walk along the lake to watch birds, and enjoy the landscape. drive back to leh (240 kms). evening is free for your leisure, shopping, etc. overnight at leh hotel.
Day 11: departure from leh with sweet memories from ladakh. end of the tour.
No. of Pax
Cost with Guesthouse
Cost with A- Category Hotels
02 to 03 Pax
€890 per person
€1150 per person
04 to 06 Pax
€830 per person
€1010 per person
07 to 09 Pax
€770 per person
€945 per person
10 to 12 Pax
€720 per person
€900 per person
Single Room Supplement
€95
€180
One Tour Leader Compliementary on Paying for 10-12 Pax
One Tour Leader Compliementary on Paying for 10-12 Pax
Included: A class category guest house with Bed & Breakfast
Included: A class category hotels with Breakfast & One meal (lunch or dinner)
Rates are valid till December 2016.
Cost Includes :
Hotel or Guest House: Neat & Clean in Central Delhi with Bed & Breakfast.
Hotel or Upper Class Guest House in Leh.
All ground transportation in Delhi by air-conditioned car/coach.
All ground transportation in Ladakh by non air-conditioned jeep.
All camping/trekking arrangements such as:-
Food (during trekking and camping)
Two men tent with mattress
Kitchen/mess tent with utensils
Cook & Helpers
Pack ponies for luggage
Camping fee
Trekking bag for protection of your personal luggage.
Local English speaking guide in Delhi & Ladakh.
Entry fee to monasteries / monuments in Ladakh only.
Cost Does not Includes :
International/ Domestic Flights
Lunches & Dinners in Delhi.
Sleeping bag and Personal clothing.
Insurance and medical evacuation.
Tips, hard & soft drinks, laundry, postage, telephone calls, anything not specified above and any item of personal nature.
Any expenses caused by reason beyond our control such as road block and flight cancellations due to natural calamities etc.
Entry fee to monuments in Delhi.
Anything not specifically mentioned under the head "Cost includes".